Header Text
Secure Remote Worker
powered by Cisco
Connecting and protecting employees
and their devices working remotely.
Cisco DNA
Cyber security
threat landscape
Remote working introduces a raft of new security challenges including:
Malware
Home office networks are 3.5 times more likely to be infected by malware than corporate networks, according to BitSight.
Phishing
Google states phishing attacks have increased by 350% in the last year.
Ransomware
DataBarracks predicts ransomware attacks will be more frequent and more devastating in 2021/22.
Form
Try our Secure Remote Worker solution
Complete the form and one of our specialists will contact you about starting a trial.
We can also provide more information on licensing.
Side Image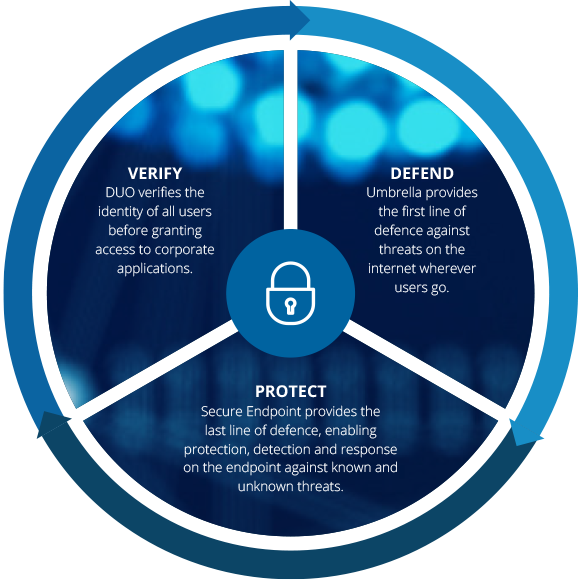 How our solution works
How our solution works
Our Secure Remote Worker solution, powered by Cisco, uses a set of cyber security tools to secure the WiFi connection, protect endpoints, verify the trust of any device and secure the applications with multi factor authentication.
Duo
Duo provides trusted access security and multi-factor authentication ensuring you can verify the identity of all users before granting access to corporate applications.
Umbrella
Cisco Umbrella is a secure internet gateway that provides the first line of defence against threats from the internet, anywhere users go. It delivers visibility into all cloud services with the ability to block risky applications.
Secure Endpoint
Cisco Secure Endpoint integrates prevention, detection, threat hunting and response capabilities in a single solution, leveraging the power of cloud-based analytics. Secure Endpoint will protect your Windows, Mac, Linux, Android, and iOS devices through a public or private cloud deployment.

The benefits
The benefits
Block malicious connections earlier.
Identifies already infected devices faster.
Enforces content-category filters to protect your users from unwanted or malicious content.
Multi-factor authentication reduces the risk of stolen credentials.
Prevents breaches, blocks malware at point of entry and continuously monitors and analyses file and process activity to rapidly detect, contain and remediate threats.
Form
Webinar: Secure Your Remote Workforce
*Do you want to see how our Secure Remote Worker solutions works? Do you need more technical information to understand how to secure your remote workers? Do you want to know how to get started?